Leggett & Platt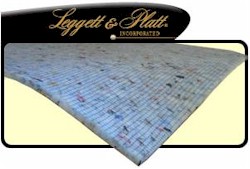 Write
Leggett & Platt
No 1 Leggett Road
Carthage, MO 64836
United States of America
Online

Longing for fashion-forward style and innovation in your home? You can rest easy when you are surrounded with Leggett & Platt Consumer Products. We keep an eye on the latest trends in home design so we can give you the stylish, luxurious pieces that suit your individual style.

Leggett & Platt has a longstanding history of providing high‐quality sleep‐related products. You can count on getting an exceptional value on a complete range of Adjustable bases, Fashion Beds, Bedding Textiles and Bed Support. Our full line of home products includes:

Adjustable Bases – products that provide a path to tranquility, with an infinitely adjustable range of perfect positions.

Beds – crafted beds, headboards, and daybeds that add a touch of style to your bedroom décor.

Bedding Textiles – mattress and pillow protectors that provide an extra layer of protection to your bedding purchase and pillows for a sound night's sleep.

Bedding Support and Bed Frames – products that provide the proper support to your mattress and its foundation.

Leggett & Platt Consumer Products are sold at specialty sleep, furniture, and department stores, as well as through online retailers, national chain stores, and specialty catalogs.
Products: Leggett & Platt
---
Brands: Leggett & Platt
---
Fashion Bed Group
Website
Fashion Bed Group is the largest, and most innovative, supplier of fashion beds, daybeds, futons, bunk beds, bed frames, and bedding support products in North America today.  Its beds are manufactured of genuine brass, plated brass, cast zinc, cast aluminum, steel, iron, wood, wicker and rattan.
---
Leggett & Platt Cushion
Website
We have the right cushion for every type of carpet, installation and customer. The proper Leggett & Platt cushion will always make carpet feel better underfoot, reduce fatigue, wear longer and retain its original beauty.
Web Design
Sunday, June 4, 2023