DAP, Inc.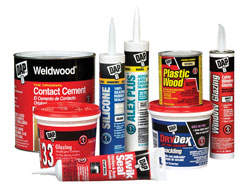 Call
Fax: (410) 558-1094
Toll Free: (888) 327-2258
Write
DAP, Inc.
2400 Boston Street
Suite 200
Baltimore, MD 21224
United States of America
Online
DAP is a leading marketer of home repair and construction products, such as latex caulk, silicone sealants, contact cements, construction adhesives, glues, glazings, spacklings as well as patch and repair products. You'll find DAP products in the hands of professional painters, remodelers, builders and do-it-yourselfers. You'll find DAP products in 60,000 retail outlets ranging from home centers and mass merchandisers to your local hardware and paint stores. You'll find DAP working behind the scenes in your home. It's the glue holding the baseboard to the wall, it's the caulk hiding that imperfection or providing that water tight seal around your tub, it's the spackling that repaired the hole in the wall, or it's the wood filler hiding nail holes in your molding and providing a hard resilient finish. Simply put... "You'll find DAP in all the right places."

DAP traces its roots back to 1865, when Robert H. Dicks and Elmer Wiggim began producing sealing wax for food-canning out of Dicks' garage in Dayton, Ohio. In those days before refrigeration and commercially prepared foods, canning was a widespread practice, and demand for their product was high. In 1906, Dicks bought out Wiggim and joined with George Pontius, incorporating their partnership in 1913 as the Dicks-Pontius Company. When Robert Dicks died, his son John entered the business and expanded it to include putty and caulk manufacturing in bulk form.

The Dicks-Pontius Company revolutionized the home repair products market in the 1940's and 50's through its marketing and product development including moving the industry to marketing caulks and sealants in disposable cartridges. Through the 1950's, the company grew through several acquisitions, including a merger with the Chicago-based Armstrong Company in 1957. The resulting entity was renamed Dicks-Armstrong-Pontius, which was eventually shortened to the brand name DAP.

The company continued its path of innovative growth, introducing new products and expanding its reach. In 1964, DAP pioneered the development of latex caulking compounds followed with acrylic latex technology breakthroughs in 1970 and advanced acrylic latex technology introductions in 1984.

Through innovation and acquisition, the company continued to expand its product line. DAP entered into an exclusive marketing agreement with the worldwide leader in silicone technology in 1980 to market a full line of silicone sealants. In the mid 1980's, Weldwood® branded adhesives came into the fold. Subsequently, the Bondex® and Plastic Wood® brands were intregrated into the DAP portfolio of products in the 90's. Finally, the first decade of the twenty first century led to an exclusive marketing agreement with the worldwide leader in antimicrobial technology, Microban International, as well as the integration of the Phenoseal® brand of adhesive caulk.

Today, DAP continues improving and introducing new products to better meet consumer needs. The DAP family now includes some of the best known brands in home repair including Kwik Seal® Tub and Tile Adhesive Caulk, Alex Plus® Acrylic Latex with Silicone Caulk, 33® Glazing, Weldwood® Contact Cement, Plastic Wood® Filler, Latex Window Glazing, 100% DAP Silicone and Vinyl Spackling. The company continues to innovate, inventing products that make jobs easier for do-it-yourselfers and professionals. Products like Easy Caulk, an aerosol dispensing product which eliminates the need for a caulk gun, DAPtex® Insulating Foam, a latex-based product which is water clean-up, has no odor and will not over expand, Drydex® Spackling, the first spackling that "goes on pink" and turns white as it dries, and the industry's first Titanium® strength silicone. The momentum continues with introductions in anti microbial Kwik Seal Plus® as well as an all weather sealant, SideWinder® Premium Siding and Window Sealant. Its most recent innovation CoVinyl X-9000™ technology makes DAPtex® Plus the best latex foam sealant on the market.

DAP also seeks to help professionals and do-it-yourselfers use their products more effectively by providing information and support for its products. Customers can reach the company through a toll free hotline 1.888.DAP.TIPS or Internet site www.DAP.com and receive tips, product information and instructions.

The DAP "Stars" represent its 700 strong associates around the world which support its vision to produce and market America's best home repair products. DAP's four manufacturing and distribution facilities in the United States of America and Canada service North America and the world.

DAP is an operating company of RPM International Inc. RPM owns subsidiaries that serve both the consumer and industrial markets. Consumer brands used by professionals and do-it-yourselfers for home improvement, automotive and boat repair and maintenance, and hobbyist include Zinsser, Rust-Oleum, DAP, Varathane and Testors. The Industrial products include roofing systems, sealants, corrosion control coatings, flooring coatings and specialty chemicals. Industrial brands include Stonhard, Tremco, Carboline, Day-Glo, Euco and Dryvit.
Brands: DAP, Inc.
---
DAP® Products Inc.
Website
DAP is the Market leader in Caulk, Sealants and Repair Products. Through a commitment to outstanding service and quality, DAP consistently deliverers innovative solutions to the DIYer.
Web Design
Tuesday, June 6, 2023