Rotmans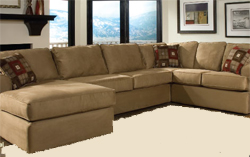 Write
Rotmans
725 Southbridge Street
Worcester, MA 01610
United States of America
Online
Rotmans is New England's largest furniture & carpet store. Furniture shoppers in the Worcester, Boston, MA, Providence, RI, and New England area will appreciate the quality selection of name brand living room furniture, dining room furniture, bedroom furniture, and more. Rotmans also offers a free Furniture Exchange program to recycle your unwanted sofas, loveseats, recliners, beds or any other home furniture.
Brands: Rotmans
---
Columbia Hardwood Flooring
|
Green
Columbia Forest Products is North America's largest manufacturer of hardwood veneer, hardwood plywood and laminated products.
---
Columbia Laminate Flooring
|
Green
Columbia Laminate Flooring is your best bet if you're looking for a floor every family member can love. Clic installation is quick and easy, creating a strong, durable flooring that's warranted for a lifetime of active family living.
Web Design
Friday, December 8, 2023