Jacobsen Oriental Rugs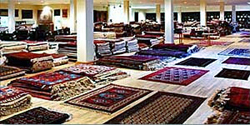 Call
Tel: (315) 422-7832
Fax: (315) 422-6909
Write
Jacobsen Oriental Rugs
401 North Salina Street
Syracuse, NY 13203-1773
United States of America
We were founded by Charles W. ("Jake") Jacobsen. Jake was a man of amazing interests and abilities. In his 92 years he made indelible marks as good citizen, soldier, businessman, and author. Born in Tennille, GA, Jake attended the University of Georgia, graduating in 1915. When WW I came, he enlisted in the Army and served as Captain in the artillery in France. Years later, he would see combat again in WW II as a Colonel in the Infantry. He landed at Anzio and suffered through the bitter campaign for Italy, and was one of the first American officers to enter liberated Rome.


Between the Wars Jake was a civilian, and in need of a job. A superior in the military had introduced him to the mysteries and pleasures of these strange but alluring rugs from the Middle East, and in 1924 Jake opened a rug business in downtown Syracuse, NY.

Jake's first buying trip abroad was to Turkey in 1932. In the decades to come there would be many more trips to the wholesale markets in England and Germany, and to Turkey, Iran, India, Pakistan, Afghanistan, and the Balkans. His early trips set the model for our buying trips today: we go to the countries and villages where rugs are actually made so that we can buy the best available pieces at the lowest prices.

Jake's experiences in the rug business led him to write four books about Oriental rugs (all, unfortunately, out of print today). His Facts About Oriental Rugs (1952), Oriental Rugs, A Complete Guide (1962), Checkpoints on How to Buy Oriental Rugs (1969), and Oriental Rugs, An Updated Guide (1977) have become classics in the field. Jake firmly believed that a knowledgeable customer was the best customer; we believe the same.

Today Jacobsen's is 32 people strong, but we're still an old-fashioned, employee-owned company with a simple business philosophy. Our only interest is in buying and selling genuine, handwoven Oriental rugs. We strive to listen to our customers' needs, to extend truly personal service, and to provide the best value we possibly can in the rugs we sell. We're proud of our past, and of our reputation as "America's source for Oriental rugs."

Products: Jacobsen Oriental Rugs
---
Web Design
Wednesday, January 19, 2022