American Olean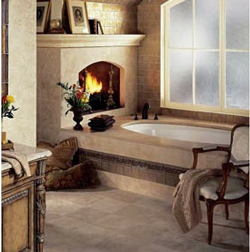 Write
American Olean
7834 CF Hawn Freeway
Dallas, TX 75217
United States of America
Dal-Tile Corporation, a subsidiary of Mohawk Industries, manufactures, distributes and markets high-quality ceramic tile and natural stone products. Dal-Tile is the largest ceramic tile manufacturer in the U.S. and one of the largest tile manufacturers in the world employing over 10,000 associates. We currently operate eight manufacturing facilities (seven in the U.S. and one in Mexico), five Regional Distribution Centers, and over 250 Sales Service Centers (SSCs) throughout the U.S., Canada, and Puerto Rico. Dal-Tile products are sold through company owned SSCs, home centers (i.e. Home DepotÒ and Lowe'sÒ) and through independent distributors.
Founded in 1947 in Dallas, Texas, Dal-Tile has greatly expanded and now incorporates the manufacture of glazed and unglazed tile, glazed and unglazed ceramic mosaics, glazed porcelain tile, unglazed quarry tile and a variety of stone products. Dal-Tile owns three of the most widely recognized product brands in the ceramic tile industry; DaltileÒ, American OleanÒ and Mohawk TileÒ. Each brand offers a comprehensive line of fashionable, high-quality tile products in a range of colors, textures and finishes.
Brands: American Olean
---
American Olean® Tile
Website
|
Warranty
|
Green
Home is where the heart is, and American Olean is the trusted choice for residential projects. With countless, on-trend design options, the versatility and durability of American Olean tile make it easy to produce stylish, modern designs anywhere in your home.
---
DalTile® Countertops
Website
|
Design Tools
|
Blog
Our extensive selection includes every option, from the finest natural stone to enduring ONE Quartz to our award-winning Panoramic Porcelain.
Web Design
Sunday, June 4, 2023