Tarkett Inc.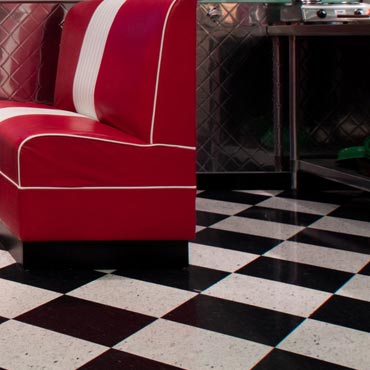 Call
Tel: 610-266-5500
Fax: 610-266-8861
Toll Free: 800-367-8275
Write
Tarkett Inc.
1139 Lehigh Avenue
Whitehall, PA 18052
United States of America
At Tarkett, we believe that people are happiest when they are offered choices that help them balance their needs and stay faithful to their values. And that's true whether you are creating a vision for your home or designing a major acute care facility. That's why we've developed the world's most extensive system of flooring and services, so our customers – whether they are homeowners, architects or facility managers – can more easily accomplish the many balancing acts in life. Our floors are beautiful yet durable, easy to maintain and are comfortable so you and your clients can enjoy and be productive in everyday life.
With the wide variety of integrated flooring options we offer, we are sure that you will find the best solution with Tarkett. Tarkett produces a wide range of sustainable and coordinated floors in different materials and types such as modular carpet, broadloom and woven, vinyl, linoleum, rubber and laminate. In fact, Tarkett produces so many types of flooring, you've probably already lived, worked, played, studied or even recuperated on our flooring in your home, school, hospital, retail store or office.
We also celebrate our rich history, one that goes hand-in-hand with that of the flooring industry, because many of the names that have helped form Tarkett as a company are those that have shaped the flooring world for more than 100 years: Azrock, Johnsonite, Tandus, Centiva, Domco, Harris Tarkett and Nafco. And today we have grown to employ more than 12,000 people worldwide in 34 production centers and sales within over 100 countries.
For over a century, Tarkett has nurtured and grown into a clear industry leader with a passionate focus on simple, confident customer experiences. With size, resources and award-winning products for all market segments, Tarkett has a distinct understanding of your interior finish needs – for the home or for commercial use – so you can feel confident you've made the right choice with Tarkett.
Brands: Tarkett Inc.
---
Tarkett FiberFloor
Website
We had this crazy idea that flooring could be smart, practical and beautiful. So we built Tarkett FiberFloor. It stands up to real-life water, moisture, scuffs, scratches and indentations in a warm, comfortable and it-looks-great kind of way.
---
Tarkett Laminate Flooring
Website
|
Warranty
|
FAQs
|
Where to Buy
Tarkett laminate flooring let you beautify your home with the best of all worlds; choose from the warm, natural look of North American hardwoods or the handcrafted look of ceramics, all with the easy maintenance of a tough finish.
---
Tarkett Resilient Flooring
Website
|
Design Tools
Welcome to everyday. That wonderful series of day-to-day moments strung together where real life happens. And they can sometimes be kind of messy. Like crafty-pasty-paper mache day. And dining-room-hockey-practice day. And let's-make-a-tent-in-the-living-room day. It's for those very real reasons that we created Tarkett® Vinyl Sheet Flooring that wears not tears. That cleans up easily. That stands up to everyday life and looks good doing it. Real floors for real life.
---
Tarkett Rubber Flooring
Website
Tarkett Rubber Flooring flooring has it all. Universally embraced for its practical beauty and a rare balance of function with aesthetics, safety with efficiency, and short term costs with lifetime return.
Web Design
Tuesday, June 6, 2023