Rug Show Industries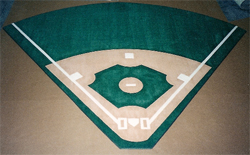 Call
Tel: 770-827-9543
Toll Free: 888-517-RUGS(7847)
Write
Rug Show Industries
PO Box 3985
Dalton, GA 30719
United States of America
Rug Show offers an endless variety of custom rugs, logo rugs, wool rugs, oriental area rugs, bowling wall murals, childrens carpet, entertainment carpets, and tradeshow logo designs and carpet.
We offer a vast selection of custom area rugs. You may design a one-of-a-kind custom designer rug for your living area, dining room, foyer, logo rug, skating, bowling center wall murals, or any commercial application. Also we offer room size rugs, tradeshow logo rug/carpet, military logo rugs, kids rugs, black light/neon carpet, printed carpet, child's carpet, modern rugs, floor covering, wall coverings, logo rugs, discount rugs, oriental area rugs, in home or business consultation, professional sales assistance, and marketing help. We cater to individuals, dealers, as well as tradeshow clients. We offer artists that can help you design and color coordinate your custom rugs for your home or business. Our commitment to quality is seen and appreciated by all our clients. From the elaborate to the inexpensive, we have the personalized custom rug you want.
All of our custom rugs are made to your specifications. All you have to do is fax or e-mail us a picture of your drawing or sketch and we will give you a quote based on the size, amount of detail, and carpet chosen. We will work within your budget if at all possible. Custom area rug craft training is also offered to individuals and business.
Rug Show's design team allows you to create handcrafted custom rugs of virtually any design, shape, or size. Reproduce the same design from wall covering, window covering, or upholstery fabric to enhance the decor of your entire room. Or let your interior designer create your custom rug for you. You are only limited by your imagination!
A custom rug is the ultimate way to enrich your space into uniquely your own. Either to beautify your home and style or for the logo rug that you always wanted for name recognition for your business, allow our designers to work with you on your custom rug project.
Products: Rug Show Industries
---
Web Design
Sunday, June 4, 2023