Makena Tile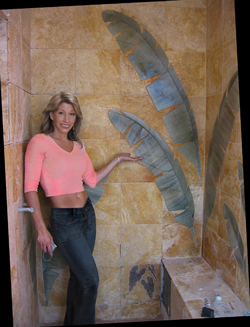 Write
Makena Tile
482 Lauloa St
Kihei, HI 96753
United States of America
Makena Tile was founded by local Artist Janna Morrison in 2002, and is based on the Hawaiian Island of Maui.
Services include floor, wall, splash and pool tile installation, Shower pan construction, mural design and fabrication, tile design and layout services.
NATURAL COLORS
My murals are not photographs or painted on designs that will fade or chip over time. They are made by carving shapes out of a variety
of naturally colorful stone. Slate, Travertine, Quartzite and Marble are commonly used. Glass, river rock and micro stones are sometimes used to accent and border my murals. Porcelain and Ceramic are often used as background to enhance or offset the carved pieces.


GRAND WALL MURALS
My Grand Wall Murals are full wall murals made by cutting mural pieces right into your room's field tile. Without the conventional confinements of borders or frames, these murals feature life size tropical plants that traverse across entire walls transforming any room into a tropical oasis.
Web Design
Thursday, June 1, 2023