Indiana Floors LLC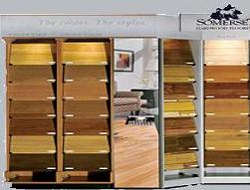 Write
Indiana Floors LLC
2650 Middle Road
Suite A
Jeffersonville, IN 47130
United States of America
I am Hugh Scott the son of a floor man and the brother of a flooring store owner in Prescott Valley Arizona (Floors-4-You).
With over 25 years in the business I have attempted to achieve a level of professionalism that will benefit the customer as well as the trade.
This trade was handed down to us by our father and he is the most honest man I ever met. If we can carry on in the fashion he operated we will honor him.
I intend to do just that.

This website as been designed with great care by a personal friend
(Thank you Adam).
I personally keep it maintained and updated.
I want my customers to get the personal touch that is missing from most of the internet flooring companys. I will offer speedy answers to questions and will never send you automated email replies. There are no rows of telephones or computers, just me and my small staff.
Any call you make you will be directed to me personally. 502-379-1009
Customer care is a requirement and is sore lacking in todays world. I believe consumers are very intuitive, and are keeping funds close to the wallet due to the economy now days. I can understand this so I offer the best price I can sell the items for amd still keep operating, some items I make less than 3% compared to most companys markups of 30% and even 100%. I believe that a little price haggling is good for business and keeps us on our toes it also brings a personal touch the sale. It gains the interest of both parties to reach a conclusion that will keep the customer coming back for future needs. If you see any type of flooring on any website on the net, I can get it! I will get it cheaper or match the price. If I cannot get you will I will explain why. our Motto is:


Same Products,Better Price!

I have been published concerning proper flooring installation procedures and have had articles placed in national published flooring magazines.
Products: Indiana Floors LLC
---