Paul Friederichsen is the founder of BrandBiz, a company that specializes in PR, media strategy and placement, sales incentives, training and mobile marketing as well as social media. Visit his website www.brandbizinc.com
2/26/2013
10:21:00 AM

Just The Right Amount of Strategy
One of the curses I have is that I can't go anywhere, pick up any magazine or watch any show on TV without analyzing the advertising. Add to the list:
Standing in a taxi line at the airport.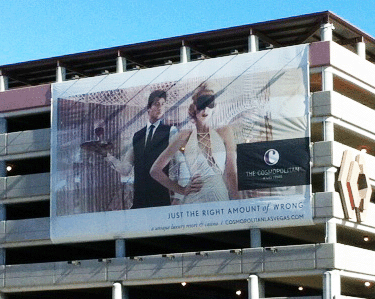 Recently, while arriving in Las Vegas for Surfaces (the big flooring trade show held each year) I noticed the Cosmopolitan Hotel still had up it's dramatically giant banner across from the airport's taxi stand. I saw it for the first time last year. This year I snapped a photo and wanted to share with you what we all can learn from this example. Of course, Las Vegas is big on glitz, showmanship, and provocative outdoor advertising. Often it's over-the-top, over-sexed and in your face, appealing mostly to men. Not so with the Cosmopolitan Hotel campaign. While the sheer size of this banner is huge, the message is delivered with sophisticated understatement. Let's take a look at what makes it work...

Building on an idea
Las Vegas has been sold on the idea that's ok to be naughty here ("What happens in Vegas stays in Vegas") and the Cosmopolitan gets that. With "Just the Right Amount of Wrong" it has complemented the essence of the city's promise. There's a sophisticated playfulness in the line thanks to an apparent contradiction that makes you stop, if just for a moment, to sort it out. This accomplishes a degree of engagement with the audience. Good headlines convey a benefit. Great headlines, like this one, make you think.

Targeting her
The understated, sophisticated presentation skews up the food chain to an affluent, more profitable female guest. (One wonders, is there any relationship of the hotel to the women's magazine of the same name?) Note the emphasis on the sexy, confident woman (the successful business woman guest perhaps?) who has willingly donned a blindfold, intriguing (or tempting?) the male room service waiter. What is the story here? What's about to happen? There's no doubt who is in control... she is. Translation: Confident, successful women stay at the Cosmopolitan. And even if you're not, you can feel like you are by staying there, too!

Location, location
Outdoor is a lot about location. Often people who take cabs at McCarran airport to get to their hotel are A) in a hurry to get to a business meeting or function, or B) on an expense account and can afford more than the shuttle service on the other side of the terminal, or both. Therefore, the taxi stand line is filled with potential Cosmopolitan Hotel guests. So what better place to hang your sign than right across from the long, long line of new arrivals waiting for their cab assignments. Even if hotel reservations have already been made, the seed is well planted and the relationship of Las Vegas + arrival + The Cosmopolitan Hotel is made.

Size matters
The Cosmopolitan Hotel could have conveyed their message much smaller. While that might have saved them a few dollars, it would have drastically compromised the impact and prestige of the hotel and its brand. People subconsciously grade an advertiser on things like production value, presentation and size. By covering three floors of a parking garage, there's no doubt The Cosmopolitan Hotel understands the importance of that.

Consistency counts
Did you notice I recalled this campaign from my previous visit to Las Vegas? Even the sign was still there - right where I left it the last time? Is there a problem with The Cosmopolitan Hotel? Can't they come up with something new? Yes, they probably could, but why would they want to? Consistency, frequency, and repetition are probably some of the most underrated tools at the marketer's disposal. Many advertisers suffer burnout with their own ideas long before their target ever will. So they talk themselves into believing that they must come up with something new. Wrong. Yes, campaign refreshment or extension can be a good thing. But in the case of The Cosmopolitan Hotel, they realize "Just the Right Amount of Wrong" still has plenty of life, so they're sticking with it.

What can advertisers learn from The Cosmopolitan Hotel's "Just the Right Amount of Wrong" campaign?

1. Never underestimate the value of a big idea expressed in a strong headline.

2. Know your target. Don't try to be all things to all people.

3. Select the venue for your message carefully.

4. Never compromise on presentation.

5. Never abandon a good campaign before its time.

As the old adage goes, you may agree that half of your advertising dollar is wasted. But if you follow The Cosmopolitan Hotel example, the half that isn't wasted will work a whole lot harder for you.