Article Number: 2183

Armstrong's NaturCote preserves linoleum's beauty
Lancaster, Pa.—Armstrong Commercial Floor Products now offers its linoleum collection with NaturCote, a new, durable top layer that increases resistance to scratches and scuffs and helps maintain the floor's appearance at a low-maintenance cost. According to the company, the new top layer allows the colors to maintain their clarity and intensity while generating a smooth, tight surface on the floor that resists dirt build-up. That's because the finish has fewer microscopic places for dust/dirt to hide than unprotected linoleum.

"Linoleum's natural ingredients are more prone to damage from chemicals than some other resilient floor coverings," said Dominic Rice, vice president, product management—commercial resilient. "These chemicals can stain, bleach, dull or even soften a linoleum floor. Armstrong NaturCote enhances linoleum's resistance to damaging chemicals."

Rice added that NaturCote protects like a coat of armor, resisting scratches and scuffs that can cause hazing and dulling and mar the floor's appearance. Tests revealed that Armstrong linoleum scratched 60% less than competitive linoleum products. "This increased resistance is achieved because NaturCote is a harder and tougher coating."
 
Made from renewable raw materials, linoleum is enjoying a resurgence in large part due to greater environmental awareness of building materials. Natural linseed oil, cork and wood powder, limestone, organic pigments and jute are all ingredients of Armstrong linoleum. Green building requirements strive for goals like increased health and well being of occupants, better indoor air quality, lower operating costs, reduced maintenance and longer product life.
 
One of linoleum's natural characteristics is its tendency to "yellow" from high pH cleaning solutions that might not discolor other commercial resilient flooring. Although polish applications protect linoleum's surface, they can wear off if not maintained properly, leaving the surface vulnerable to discoloration from harsh cleaning agents. But because NaturCote is bonded to the floor's surface, the floor is protected from accidental exposure to high pH cleaners and stripping solutions.

With NaturCote, another maintenance step—polishing—can also be eliminated, which increases the speed of building occupancy. "If, after careful evaluation, it's determined that initial polish preparation is not necessary, the linoleum floor will look great and be ready for foot traffic the moment it's installed, saving time and costs associated with traditional maintenance methods," Rice said.

For more information, call 877.276.7876.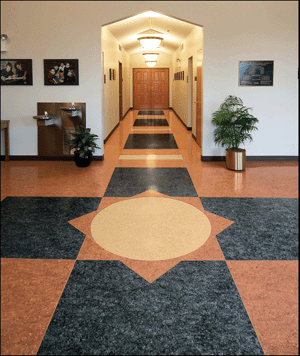 Armstrong's flagship Marmorette collection with NaturCote.
---
---
Related News
Tuesday, May 22, 2018