Article Number: 1147

Women Of Flooring America Making Their Mark
By Jen Richmond
Manchester, N.H.—The women of Flooring America are leading by example. As successful business owners and managers, they are changing the way women are perceived in this male-dominated industry and inspiring other women to join the top ranks of this increasingly fashion-oriented market.

"When I entered the industry 30 years ago, women were usually only hired to be secretaries," said Genie Shupe, a veteran retailer who owns Riteway Flooring America in Durango, Colo. and Farmington, N.M. "It wasn't until eight or nine years ago that female sales professionals and female executives became more visible."

Shupe, like many of the women she described, accidentally stumbled into flooring as an administrative assistant, but quickly discovered the industry's appeal to a female customer and her own future career path. Now women are choosing to enter the field as opportunities abound for them as sales professionals and executives.

Industry leaders such as Flooring America recognize that their customers are primarily women, noted Shupe. "It is refreshing to see that it values the opinion of women and is hiring women in highly visible positions to show that they can market both to and from a woman's perspective. All in all, it is reaffirming for women that have already chosen this path for their careers."

Maxine Schneider, owner of Schneider's Flooring America in Vernon, Conn., agrees that the industry as a whole has taken a keen interest in the opinions of women. "In fact, many businesses are changing their sales approach to appeal to women who increasingly base their buying decisions on design.

"There are currently a large number of female members who sit on Flooring America's advisory council and board of directors," she continued. "There are also a tremendous amount of female members who participate in the group's merchandising committee, which directly influences what ends up on showroom floors across the country." Schneider has participated in both the advisory council and board.

Additionally, many of Flooring America's female members participate in the company's advertising committee. Their input has helped guide the style and promotional aspects of national and local advertising to appeal to this fashion-driven market.

To further inspire and support its female entrepreneurs, Flooring America encourages women members to get to know one another through the Women of Flooring America group where they can seek advice, openly discuss the specific challenges they face in the industry, and share trends they see in their regions.

Merchandising and advertising with women in mind has become the primary focus of many industry giants like Flooring America. Consumers are looking for high fashion designs, and retailers are quickly learning that their showrooms must not only carry a wide variety of the latest flooring fashions, but should reflect this merchandise through fixtures and lighting that are modeled after posh boutiques and designer studios.

A Refreshing Alternative

"We feel that Flooring America offers a refreshing alternative to our large home improvement competitors," stated Vinnie Virga, president of the buying group. "That is why we continually seek to identify the group's brand as a diverse collection of service-oriented flooring dealers who cater to all the unique needs of our clients, rather than a more generic national chain."

To reflect this trend, Flooring America's advertising has also shifted toward promoting this designer image. High-end merchandise is more frequently featured throughout its printed promotions. Strategically placed design tips offer consumers advice about decorating, and most ads boast an image similar to home décor magazines as opposed to the basic bargain merchandising of big box chains.

"Our ads reflect the highly-attentive, personalized shopping experience each consumer receives when they walk into one of our stores," said Deb Binder, the group's vice president of marketing.

Judith Huck, owner of Classique Floors in Portland, Ore., has used her own love of fashion to transform her showroom into a designer paradise. She understands that her female customers want an entire shopping experience and goes so far as to have cookies, coffee and bottled water on hand to make that experience as enjoyable as possible.

"When women walk into our showroom they say 'Wow!' when they see the effort that has gone into the presentation of our products," she explained. "They feel comfortable letting our on-staff designers and sales associates suggest flooring ideas that stretch their imaginations."

Catering To Females

Renee Gardner, who owns Gardner's Flooring America with her sister Tracy in Topeka, Kan., also knows just how successful retailers can be when they cater to the sensibilities of their female customers through careful merchandising. Their showroom not only features flooring, but offers a wide variety of decorating elements such as fabric, window treatments and wallpaper to create a complete design center.

Most women are looking to completely redecorate a room, not just change the floors, Gardner noted. "During this process most women feel more comfortable in their choices with the help of designers or the recommendations of our female associates. In fact, most female sales professionals find this helps establish the necessary authority to successfully close deals with their clients. It also allows them to guide those clients toward higher ticket sales."

"Whether it's because they perceive them as better listeners, more attentive, or simply better adept at making design suggestions, women tend to respond better to other women," added Suzanne Brown, the president of Dobson Floors in Farmers Branch, Tex.

As the retail flooring industry continues to change to meet the needs of its fashion-conscious consumers, more and more women will find that a career in retail floor covering is better suited to them than it ever was before. With their innate ability to respond to the target market, they may some day even turn the tables on an industry once dominated by men.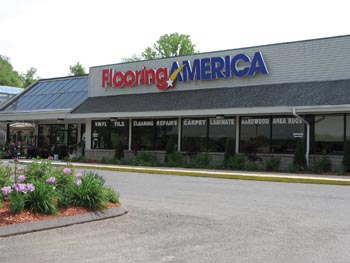 Schneider's Flooring America in Vernon, Conn.
---
---
Related News
Friday, December 8, 2023
Web Design
Friday, December 8, 2023