Article Number: 1396

Lauzon plans $19 million sawmill - First Part Of A Larger Investment Strategy
PAPINEAUVILLE, QUEBEC, CANADA—Lauzon Distinctive Hardwood Flooring has unveiled plans for a $19 million sawmill in Thurso, Quebec, near Ottawa. The new plant, which represents the first phase of a $50 million investment strategy, will receive financial support from the Canadian government.

"Over a year ago, we undertook a rigorous study of the hardwood forest industry in our quest for continued innovation and excellence," said Michel Pitre, general manager of Lauzon (Thurso) Forest Resources, a subsidiary of Lauzon Distinctive Hardwood Flooring. "We concluded that our growth strategy must be channeled through innovation technology transfers and improvements of our hardwood flooring manufacturing facilities and through the consolidation of raw materials allocation and harvesting contracts managed by the government of Quebec."

Plans call for a "hybrid" sawmill, or a factory that can undertake various lumber processing tasks.

"This study led to a revolutionary hybrid sawmill concept that set the foundation for our future development strategy, designed to confirm our place as a world leader in the high-end hardwood flooring industry," he noted. "Securing the hybrid sawmill project in Thurso depended heavily on the support of both the governments of Quebec and Canada, which explains why we have been promoting the project so rigorously since June 2005."

The Quebec government confirmed its financial support and the Ministry of Natural Resources and Wildlife approved Lauzon's raw material (wood) allocation and harvesting consolidation strategy. "This show of confidence in our vision demonstrates the government of Quebec's eagerness to create enticing investment opportunities for the hardwood industry in Quebec," Pitre said.

"We fully intend to seize the opportunity to pursue our strategic development and maintain our competitiveness. Inversely, Quebec's economy will be enriched by $200 million to $400 million per annum in re-injected export dollars."

Additional investments and new job creation will follow the construction of the hybrid sawmill, part of Lauzon's $50 million master plan to further enhance its multiple hardwood flooring and recycling operations. The hybrid mill project is fully in-line with the government's sustainable forest development plan to create export opportunities in value-added hardwood products. "To our knowledge, the Thurso hardwood converting process will be unique to this kind in North America," he said.

"Coupled with the raw material supply now secured," Pitre added, "Lauzon holds all theingredients to maintain its competitiveness and market leadership in the high- end wood flooring industry, the wood recycling industry and soon, the hardwood sawmill industry.

"Furthermore, the Thurso hybrid mill project accelerates Lauzon's ability to expand its product range at highly competitive prices worldwide, to reduce product turnover time in the chain of custody, to change over to a just-in-time production cycle and to provide a level of service which defines a world class corporation," he concluded.

For more information, call 819.427.8170.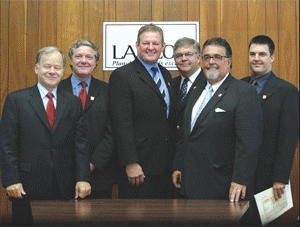 David Lauzon, Lauzon's President (Center)
with Officials of Canadian Government
---
---
Related News
Friday, January 18, 2019