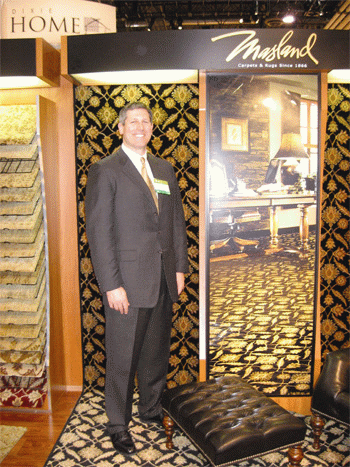 Kennedy Frierson, president of Masland,
shows off the Fine Wool Creations
By Matthew Spieler
Las Vegas—Green was certainly a key theme among many of the carpet companies and fiber suppliers exhibiting at Surfaces 2007. But due to advances in manufacturing technology the category is rapidly regaining its position as a fashion leader.
Carpet companies at Surfaces put their best foot forward in presenting products that not only coordinate with today's popular hard surface floors, but other interior furnishings as well. Technological advancements from better fibers to manufacturing processes have allowed companies to create broadloom to coordinate with any of today's decor trends.
Mills are recognizing that consumers no longer want plain beige or some other monotone color. They want patterns, textures and designs that allow them to create high-end yet comfortable homes in ways befitting their lifestyle. And while many new advances have been made by mills, they still recognize the value of a branded fiber. To that end, there was no shortage of the industry's most noted consumer brands, including Stainmaster, Anso and Wear-Dated.
Beaulieu of America launched the Hollytex Stain-Master Luxury Collection II. Building on the success of the original series, the new one brings 20 branded Stainmaster products to market, including 11 Stainmaster Xtrabody styles. Ralph Boe, president and COO, said the new collection will feature more than 400 SKUs in seven construction types, including saxonies, friezes, textures, shags, cables, LCLs and engineered loops. The new collection can be combined with the original collection's merchandiser to give retailers a boutique of 40 branded Stainmaster products. Boe called it the year's "most comprehensive launch of branded Stainmaster products."
Another large Stainmaster introduction came from Milliken, which brought back its Milliken Place residential collection. Locked away for about 20 years, Kaye Gosline, creative director, said the company is re-introducing it with fresh colors, patterns and textures. "Milliken Place patterns are flexible enough to be used in a wide range of residential interiors. We created a great deal of visual interest through the artful use of texture and subtle color layering."
To achieve this, Dave Caples, North American floor covering president, said Milliken Place employs the company's "ground-breaking new Convergence technology that marries texture with color and pattern. The technology gives the carpet incredible dimensionality."
While this line takes the company into a more high-end fashion segment of the residential carpet market, the initial 18 patterns, ranging from six to 20 colors for each pattern, is priced at mid-range.
Fabrica was not only sporting a new logo and look, it was also promoting a number of branding introductions. Along with Stainmaster styles, the company was displaying products featuring the Wear-Dated moniker. Highlighted products all have a Far East tilt in terms of their fashion influences. For example, Abrash finds inspiration from tribal influences of handwoven Tibetan and Nepalese rugs.
The Nibbana series is named after the Buddhist divine state of eternal bliss. Todd Van De Hei, Fabrica's president, said this collection "reached a higher level of softness, texture, beauty and sophistication."
Finally, there is Shandur, named after the famous Shandur Pass in the Himalayan Mountains; it means halfway to heaven. "For centuries this remote region has produced beautiful hand knotted rugs," he explained, "and this product is inspired by this great tradition."
High end sells
While the residential part of the industry has been experiencing a slowdown the past eight months, the upper end of the market continues to do well. Thus, mills are producing goods with this in mind. "We believe the high-end soft flooring market will continue to grow faster than the rest of the market as a whole," said Kennedy Frierson, president of Masland Carpets & Rugs.
While Masland has always been known as a producer of better goods, the company used Surfaces to unveil its first-ever wool broadloom collection. With nearly a dozen styles in the initial Fine Wool Creations offering, he said Masland's move into an entirely new category represents "our response to one of the fastest growing trends."
Stanton Carpet was also showing attendeees the latest styling trends. "Style and color are at the core of what we do," said Jonathan Cohen, executive vice president. Both Stanton and its Royal Dutch division introduced a slew of products, some made with New Zealand wool, such as the three designs in its California collection. Cohen said the line has "natural beauty that is light in feel with today's edge." The designs utilize a soft palette with a slightly tweeded ground.
Luxury and high style are terms that can also be used to describe the 2007 additions to Stanton's successful Shalimar Collection. The hand carved, New Zealand wool patterns include a new leopard design, Bagira.
A new octagon/diamond design, Kahn, sports "an edgy yet elegant softness that is pleasing to both modern and traditional settings in five colors," he noted. "And Lahore takes a traditional floral scroll and adds a modern flavor, especially with the subtle pin-striping in the ground."
Animal motifs were also popular on the Royal Dutch side in the form of the Kingston Collection. "As a sister product to our Kilimanjaro collection, this new design combines leopard with the best of traditional, a trellis. This is a new twist on animal designs featuring four SKUs."
Combining technology and fashion was something Kraus showcased throughout its booth, but especially in the first styles based on the mill's innovative residential carpet fiber, Strudon. Michael Eckhardt, national sales manager, said StrudonSilc features aesthetics on par with branded soft BCF nylon, a price comparable to PET and performance somewhere between the two fibers.
Nearly two years of research and testing went into this soft poly fiber made from a proprietary solution-dyed poly resin. In making the new yarn, Eckhardt said Kraus researchers started with the stain technology and fiber performance engineering from their previous poly fiber and incorporated the ReflexWave curvilinear fiber shape, scouring and extraction, and exceptionally high twist to create the StrudonSilc.
Because of the properties inherent in the fiber, Kraus is backing StrudonSilc with a seven-year texture retention warranty and a comprehensive "Ten Year No Exceptions Stain Proof Warranty."