Flooring
Flooring Overview
Flooring has more influence on an interior space than most people realize. A great floor is the foundation for the design of an entire living area. It should create a comfortable environment that is compatible with your daily activities. Because flooring has such a dramatic influence on living spaces functionally, aesthetically and financially, it is important to research, plan and make your selections carefully. When it comes to choosing a particular flooring, there are a multitude of outstanding options available, each with its own advantages and disadvantages.

Flooring sets the overall theme of a room. Your lifestyle and the function, maintenance and cost of materials are just some of the factors to consider when making your selections. With the wide variety of flooring choices available today, you'll need to evaluate your specific needs and compare them with the cost, maintenance, durability and design features of the various products.

Whether you are starting from scratch or replacing an existing floor, you'll need to select a floor that not only meets your needs, both functionally and financially, but one that also looks great. Since the floor is the largest element in a room, use it to pull together other elements such as paint, wallpaper, fixtures and trim to create one integrated look that establishes the composition of the space. Make your selection with an eye to the future, as well. Think about choosing a neutral design, since a rooms decor and furniture are likely to change at least once before the floor will need to be replaced.


Flooring Types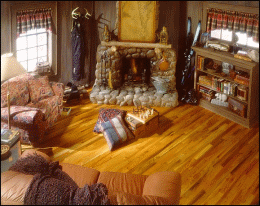 The most common types of flooring are hardwood flooring, resilient sheet goods or tile, ceramic tile, natural stone, laminate flooring, cork flooring and carpeting. The effect each of these can create can be either rustic or formal, cool or warm, sleek or plush. Each material brings its own unique look and feel to a room. Marble and natural stone flooring adds a feeling of permanence and creates a very luxurious and expensive floor. Ceramic tile is usually less expensive than natural stone and is also a very durable flooring material.

Hardwood flooring is a traditional favorite that adds warmth and texture to any room. Resilient flooring is highly versatile; it's durable, comfortable, easy to maintain and comes in a range of colors and patterns, from stone look-alikes to vinyl that looks like actual wood. Carpeting adds softness and warmth but is not suitable in certain areas of the home and is not as durable as other flooring choices available.

Before you make your final selection, visit your local showrooms. Collect samples and bring them home to examine in the actual surroundings of your home. Understanding the physical characteristics of the different materials is crucial to making the best selection. Keep in mind that not all types of materials are suitable for all functions. Wood floors are greatly affected by moisture; and should be considered for living spaces like bathrooms and kitchen areas only if precautions are taken to control moisture.

Pay very close attention to the subfloor requirements of the various materials as you are researching them, and take time to check the structure of your existing floor to make sure it's in good condition. The type of floor you choose will affect the amount of subfloor preparation you will need to make. For example, ceramic tile is rigid and inflexible. For this reason, it needs to be installed over a particularly firm and stable subfloor. With resilient floors, a smooth and relatively flat subsurface underlayment is crucial.

No matter what your particular needs are, you can be sure that there are choices that can be made to meet them effectively. Make wise and informed choices, and you will not only have a long lasting floor, but one that will aesthetically enhance your decor and beautify your home.

© 2007 FloorBiz, Inc. All Rights Reserved