flooring tools


Flooring Tools
Flooring tools are essential to the success of any professional or do-it-yourself project. The flooring industry presents many challenges for the skilled laborer. The flooring professional, whether a carpet installer, ceramic tile contractor, wood floor specialist or resilient floor layer needs the right flooring tools for the job. With all of the many tool manufacturers plying their trade today, this can prove a daunting task.

Flooring tools are a definitely a necessity. The average carpet installer for instance will need a carpet knife and supply of blades. They will also have a knee kicker, power stretcher, seaming iron and tape, tack strip, straight edges, chalk line, tape measure, carpet cutter, glue gun, carpet roller, trowels, assorted trimmers and tuckers, drill and bits, etc. Not to mention a binding machine, various glues and mastics, floor patch and the like. All of these are necessary and will enable the carpet installer to provide the customer with a professionally done job.

The ceramic tile contractor will likewise need a variety of knives and blades, wet saw, tile cutter, knee pads, assorted trowels, straight edges, measuring tape, marking pencils, buckets, sponges, grout floats, chalk line, undercut saw, heavy duty mixing drill and mixing paddle, tile nippers, drill and bits, etc. The more advanced tile contractor will also have a moisture meter, variety of floorscrapers and blades, as well as a floor vacuum.

The wood floor specialist will need among other things a table saw, miter saw, nail gun and nails, pull bar, assorted clamps, trowels, floor vise, air compressor, carpenter squares, jig saw and blades, just to name a few. The resilient floor layer will be equipped with a vinyl welding tool, vinyl tile cutter, hand groover and blades, PVC planer, as well as many other needed items. As you can see, having the right tools can make all the difference in the finished project. To visit our entire flooring tools directory, please click here.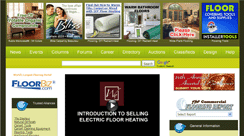 Since 1996, FloorBiz has been dedicated to providing the most comprehensive flooring environment for every aspect of our ever-growing industry. Our up-to-date Flooring News Section will keep you abreast of the many newsworthy events and important changes affecting both businesses and consumers alike. Our exhaustive Flooring Directory has every conceivable flooring related product or service provided by the more than 20,000 businesses throughout the world currently registered on FloorBiz.
Our Career Section is filled with current employment opportunities, and our Classified Section provides a viable and effective outlet for businesses to sell excess inventory and closeouts as well as running-line merchandise and business services. Our Events Section will keep you well informed of the many trade shows and training seminars occurring throughout the year. These are just some of the many features FloorBiz provides. We invite you to register your company for free and start enjoying the many benefits provided by - The World's Largest Flooring Portal!
© 2007 FloorBiz, Inc. All Rights Reserved