wood tile flooring
Wood Tile Floors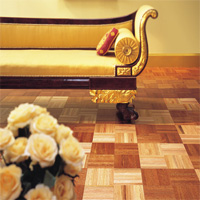 Parquet or inlaid wood tiles traditionally have been used to create elegant and long lasting floors in the finest homes. Creating these beautiful wood tile floors used to be a difficult, time-consuming, task. An artisan would fashion the chosen floor design by carefully cutting and fitting the pieces of wood right at the site.
Today, parquet flooring comes in pre-assembled squares, or wood tile, that are installed easily either by adhering them to the floor or by nailing them down in the traditional manner. Parquet wood tiles are square wood units laid much like ceramic tile. The parquet tiles have a repeating pattern made from short wood strips.


These strips will either be solid wood or laminated veneers much like plywood. Solid wood parquet tiles have the pieces bonded together with either a cloth mesh or paper backing. Some solid wood tiles are held together with plastic or metal splines. Some manufacturers go as far as gluing the edges of the wood strips used in the solid wood parquet.
Cushioned Back Parquet
Some solid wood parquet tile has a foam cushion on the back that has a layer of adhesive applied. It is installed by the peel-and-stick method. This type provides insulation and sound deadening properties. It is also a snap to install for the do-it-yourselfer. Because of the investment involved, you may want to consider hiring a licensed wood flooring professional to handle your installation. Wood flooring is designed to last a long time, so the installation should be done in a professional manner.
Solid or Engineered 3 Ply Construction
Parquet tiles are also available in a three-ply construction. The construction is similar to other engineered flooring where each tile has a series of tongues and grooves on all edges that line up and hold the individual tiles together. So whether you are interested in solid parquet or a laminated veneer parquet, the choices are endless concerning pattern and design. Take individual samples home and place them on the floor to get a good and realistic idea how they are going look once installed.
The wood tile comes in two forms. The first has the flat edges found on all tile. These butt together, and installation is simple. The second type of wood tile comes with special tongue and-groove joints, which fit together as you lay the tile. Installing this version of wood tile requires more care. However, the process creates a strong, long-lasting joint that will not shrink or pull apart, resulting in a continuous and beautiful wood floor surface.
Parquet wood tiles are finished in a variety of wood tones, or they can be purchased in unfinished style. Finished products normally are the easiest for the average do-it-yourselfer to install, because it requires no special skill in floor finishing. On the other hand, unfinished wood tile allows the homeowner the option of matching the stain in the floor to the room's decor and existing flooring.
© 2008 FloorBiz, Inc. All Rights Reserved
For more information on this and other wood flooring products... FloorBiz is your starting point to all the important wood tile flooring sites on the internet.