benefits of carpet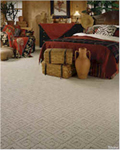 Benefits of Carpet
Carpet is the floor covering of choice among homeowners, representing the majority of all floor covering purchases in the United States. The reasons for its popularity are both practical and decorative.

Unlike other types of flooring, carpet is a natural insulator, providing additional warmth in cold seasons. Its use in a wall-to-wall application actually increases the R-value, or insulation level, of the carpeted area. Beyond its potential value in reducing heating costs, carpet also enhances the perception of comfort and warmth.

Carpet reduces a home's noise level, eliminating or muffling distracting clatter. Carpeted rooms absorb and contain noise, offering a greater degree of privacy from room to room. Soft underfoot, carpet also provides a comfortable, non-slip walking surface that reduces leg fatigue. Importantly, a resilient layer of carpet minimizes the danger of injury from falls and accidents.

Another, often overlooked advantage of carpet is its ability to improve indoor air quality. EPA scientists have concluded that carpet can be beneficial in trapping and immobilizing potential allergy-causing particulates, preventing them from reentering the indoor air stream, if the carpet is properly cleaned and maintained. A 1990 study in Sweden determined that levels of particulate contaminants, bacteria, and fungi in the indoor air in carpeted areas were always far below levels in the air above hard surface floors. Similar results have been obtained in other studies in American hospitals.

Of course, as with any interior furnishing, appropriate cleaning is required. This includes regular vacuuming, removal of spots and spills, and periodic overall cleaning, preferably using the hot water extraction method. For more information, visit the Carpet Care section of this site.

Carpet is also a remarkably durable and practical floor covering. Technological advances in everything from fiber to backing enable carpet manufacturers to offer products suitable for virtually any residential or commercial setting - indoors or out! Moreover, carpet is an exceptional value and is generally significantly less expensive than other floor coverings.

Best of all, carpet is a beautiful home furnishing that can add elegance, comfort, and fashion to any setting. Extremely versatile, carpet is available in an extraordinary selection of styles, patterns, and colors. From solid, formal cut piles, or "saxonies," to natural, loop pile Berbers, carpet affords unlimited decorating flexibility.

Carpet can serve as a neutral backdrop that complements other furnishings, or it can "make a statement" as the focal point of a decor. The only truly three-dimensional floor covering, carpet offers textural possibilities that other hard surfaces lack.
Value, comfort, safety, beauty...it's little wonder that carpet has outsold every other floor covering for almost fifty years.
© 2008 FloorBiz, Inc. All Rights Reserved
See Also: history | decorating | room advisor | custom color