Carpet Decorating Tips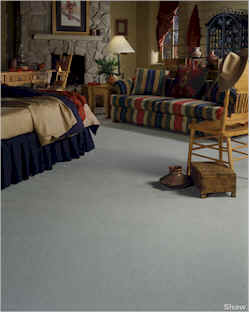 Selecting carpet Color
No decision you will make about your carpet will have as significant an impact on your decorating as the color you choose. The importance of the decision makes it difficult, but also exciting. As you face a wide array of carpet colors, shades, and tones, these few tips may help make your selection process a little easier. more about carpet color...
Providing An Airy Feel
Light colors give rooms a larger overall appearance. Whether you want to make a small breakfast room seem bigger, or make a large living room feel even more open, light color carpeting could provide the effect you're seeking.

Creating A Cozy Atmosphere
Dark colors make a room appear smaller and cozier. Whether decorating a study, a large master bedroom, or a family room with a vaulted ceiling and fireplace, you may find that dark carpeting helps create the room's desired comfort.
Developing A Color Flow
To develop color flow throughout a room, different values of the dominant carpet color can be effectively used as accents. To develop color flow throughout the house, duplicate the dominant carpet color from one room as an accent or border carpet color in the next room.
Avoiding An Exact Match
When selecting a solid carpet to coordinate with upholstery or drapery fabric, find a complementary shade of the dominant color instead of an exact match. Such coordination softens the decorating style, adding interest rather than rigidity.
Understanding The Importance of Light
Your use of different light sources will change the look of your carpet's color. Natural sunlight from a window will create a different effect than the overhead light of a chandelier, or the indirect light of a lamp. Viewing your sample at different times of the day in the room it will be used will help you decide if you've selected a color that looks nice regardless of the light source.
Striking A Balance
While light color carpeting shows soil more readily than dark, dark shades are prone to show lint. The function of the area that you are carpeting and your family's lifestyle will help you determine how to balance these two situations. Neutral tones that mimic such natural elements of wood, stone, marble, or slate are best able to disguise both soil and lint.
Warming & Cooling Effects
Colors take their cue from nature. Red and yellow carpeting, reflecting the glow of sunshine, can have a warming effect in a room. Blue and green tones, paralleling the chill of early morning, have a cooling effect.
Even Beige Is Not Necessarily Safe
Although considered the most neutral of carpet colors, decorating with beige tones can also be difficult. Beige colors are made of amounts of red, yellow, and blue mixed together. The dominant of these three colors creates the beige's undertone, which should be consistent and complementary with other colors and other beiges in the room's decorating elements.
© 2008 FloorBiz, Inc. All Rights Reserved
See Also: history | benefits | room advisor | custom color